Cloud Road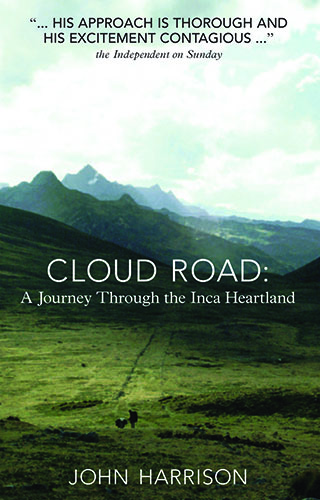 CLOUD ROAD: THE READING BEHIND THE BOOK
It makes me sound alike a swot to say I love research. It allows me to explore areas of knowledge that I have always been curious about, but which I could not previously justify spending time on. Thorough research helps me to ground my travels in the history and culture of the area I visit. The more reading I do before I go, the better I can plan my trip and understand where to go and what to look for. The first general histories are a slog to begin with, until I have a general framework in my head. After that, each book can be read a little faster, and is a little more fun.
I usually begin with the earliest history and archaeology to know where a civilisation came from. On the American side, the key early sites were those early civilizations which spread beyond their local resources. Their technology and their view of the world formed the environment in which the later civilizations continued. Chavín de Huantar (Peru) and Tiwanaku (Bolivia) in the mountains, Chan-Chan and Sipán on the Peruvian coast were the ones which excited me.
I have divided the main books I used into different topics, discussed below.
Earliest Civilizations
The books which quickened my pulse and imagination were:
The Royal Tombs of Sipán, Walter Alva and Christopher B Donnan, 1993, Fowler Museum of Cultural History, UCLA
Chavín And The Origins of Andean Civilization, Richard L Burger, 1992
Lords of the Sacred Lake, José Berenguer Rodriguez, 2000.
Accounts Contemporary with the Conquest
It's special to read what people in the thick of the action thought they were doing. There's no such thing as an unbiased view, and the right to write the history of events is one of the victor's spoils. Many accounts are written to justify the author's dubious actions, others to boast, others as a basis to beg a pension. Accounts of the conquest of Peru fall into many of these camps.
The most entertaining contemporary account was Letter to a King, by Felipe Huaman Poma de Ayala, written in 1567-1615, it was published 1936, my edition is from 1978. Huaman Poma is an old man, a pure-blooded Inca who wrote a huge complaint to the King of Spain about the conduct of his servants and subjects. It was locked up and forgotten; just as well, if anyone important had read it he would have been executed. Think grumpy old man on a llama.
Pedro de Cieza de León, a Spanish soldier, wrote The Incas, republished by Orion Press, New York, 1961. Here is an extract about the author, who went to the New World aged 15, from my novel in progress: 'The last I heard he was trying to finish his history, aged 32 and just married, but dying of paralysis, the pen tied to his fingers, warming his joints over a candle. A good man, many say, and he had seen much, and was scrupulous in his observations, but he lacked education.'
The Incas by Garcilaso de la Vega is a fascinating insider's account by a man who had an Inca princess as a mother and a Spanish captain as a father. He belongs to the first generation of mixed race.
I quoted from but did not read in its entirety Relación de muchas cosas acaesidas en el Perú … en la conquista y población destos reinos, Cristóbal de Molina of Santiago c.1553.
The Discovery and Conquest of Peru, Agustin Zárate, Penguin, is a highly readable and reliable account, by a scholar who arrived a decade after the fall of Atahualpa. Penguin also publish the classic account defending the human rights of the natives, Bartolomé de las Casas's Short Account of the Destruction of the Indies. Not cheerful reading, but it reassures you that in the worst of times there are still good men.
History of the Incas is by Pedro Sarmiento de Gamboa, one of the toughest of the adventurers, and literate too. He interviewed the Inca Court's memory men, who, in the absence of writing, were the mental historical encyclopaedias of the empire; his information is very accurate. Relation of the Discovery and Conquest of the Kingdom of Peru by Pedro Pizarro, 1571, was a book that evaded me until I was nearly finished. Pedro was a young relation who came after the main Conquest so it's second-hand, but he is an insder from the Pizarro clan.
Earlier Travel Accounts
Travel writers tell you as much about themselves and their times as they do about the place they visit. It's one culture's view of another and is far more of a two-way journey than some early travel writers seem to think. The American Hassaurek's disgust at some aspects of life in nineteenth century Ecuador was especially amusing; see Four Years Among Spanish-Americans, (Later retitled Four Years Among the Ecuadorians), Friedrich Hassaurek, Hurd and Houghton, New York, 1867. Ten years later Ephraim George Squier wrote Peru: incidents of travel and exploration in the land of the Incas. It's not riveting but has lots of good details: 'In 1681 Viceroy La Plata rode through Lima on a horse whose reins were strung with pearls, shoed with gold, over a pavement of silver ingots.'
Lost City of the Incas, by Hiram Bingham is the discoverer's personal account of finding Machu Picchu, though many of his initial theories have now been superseded. Clements Markham was later a domineering President of the Royal Geographical Society and sponsored Robert Falcon Scott and many others. A pity half his own travel experience was a single youthful trip to Peru. In Markham in Peru: The Travels of Clements R Markham in Peru 1852-53, edited by Peter Blanchard, there is much of the snobbish young fogey about him ('Republicans and self-styled liberals have proved the greatest enemies of real freedom') though some interesting details come through. Henri Michaux's Ecuador came strongly recommended by a well-known guide book series but I found it shallow, vacuous and pretentious: 'Who knows one sea knows the sea. Its anger, like ours. Its inner life, like ours.' Tosh.
Edward Whymper's own account of Travels amongst the Great Andes of the Equator, 1892 needs to be written in concert with a biography to fill in what he does not report. Think grumpy young man with one hip flask full of whiskey and another overflowing with disdain.
Dervla Murphy's Eight Feet in the Andes 1993, is about monster walk from Cajamarca to Cuzco, with mule and daughter - hence the title. The Panama Hat Trail by Tom Miller, 1986 is a bit of a one-horse stampede but does fill you in on the Ecuadorian hats which have travelled the world with a neighbouring country's name on them.
Peruvian Pageant by Blair Niles, 1937 provided the J C Tello story - father of Peruvian archaeology.
General Histories and Cultural Essays
Classic History
W H Prescott's nineteenth century works, The Conquest of Peru, The Conquest of Mexico and Ferdinand and Isabela, dominated the field for decades and are still rich narratives, although scholarship has moved on.
Cultural essays
The Peru Reader lets you can hit the ground running. It is a first-class collection of essays portraying the country in the round. It's edited by Orin Starn, Carlos Iván Degregori, Robin Kirk, Duke University Press, 1995. Peter Flindell Klarén's Peru, Society and Nationhood in the Andes, 2000 is another sound survey of Peru's history.
Lighter reads are Carnival and Coca Leaf, Douglas Gifford and Pauline Hogarth, 1976, and Everyday Life of the Incas, Ann Kendall, 1973, one of a solid series of small books about ancient cultures.
In The Buried Mirror, Carlos Fuentes, Andre Deutsch, London, 1992, the author brings scholarship and style to a consideration of Latin American history: 'The American continent has existed between dream and reality, in a divorce between the good society we desire and the imperfect society in which we really live. We have clung to Utopia because we were founded as a Utopia,'
Another good survey is The Open Veins of Latin America by Eduardo Galeano, 1973. How's this for summing up a wrecked economy in a line: 'Haiti has more footwashers than shoe-shine boys.'
On the maritime side, anything by Samuel Eliot Morison or J H Parry will do you proud, I made special use of the latter's Age of Reconnaissance. Pelican's A History of Latin America by George Pendle, 1963 provides good chapters on differing aspects and countries in the Latin American picture.
Modern Histories (written since 1945)
Peru Before Pizarro,George Bankes, 1977
John Hemming, The Conquest of the Incas, MacMillan, London, 1970. If you only read one account of the Conquest, read this, but it stops fairly soon after the Conquest itself. I also read the equally excellent The Conquest of Mexico by Hugh Thomas, 1993, because you can't understand Pizarro's actions in Peru without knowing the story of his second cousin Cortés in Mexico. The Incas and their Ancestors by Michael Moseley, 1992 was a big hitter, I took 27 pages of typed notes.
The Liberators, Robert Harvey, John Murray, 2000, tells the stories of the men who fought for independence from Spain, read Rousseau, but thought it didn't apply to 'Indians'.
Simon Strong's history Shining Path tells you all you need to know about this grim era of Marxist terrorism.
Thinker's Books
Some books attract me to stretch my range of ideas and concepts. The more academic ones might be hard work but they sometimes take the mind to new ideas and ways of thinking, or to new ways of thinking about old problems. At other times, they may just turn your brain to stones. The most rewarding were:
Marvellous Possessions, The Wonder of the New World, Stephen Greenblatt, Oxford, 1988.
Fierce and Unnatural Cruelty, Cortés and the Conquest of Mexico, Inga Clendinnen, in New World Encounters, edited Stephen Greenblatt, 1993. The essay looks at how native people, the Mexica, or Aztecs, tried to interpret a murderous attack during a religious festival, not as war, but as a new symbolic ceremony. The same argument appears in her book Aztecs, CUP, 1991.
Literature
The field is huge, so I'll stick to books which affected how I wrote Cloud Road.
Don Quixote by Miguel Cervantes gets my vote for the best novel ever written, especially Part 2: Post-Modernism invented 400 years early.
Sometimes it helps to read the work of masters who have gone there before, especially poets and novelists, to see how a culture sees itself from the inside. See No One Writes to the Colonel by Gabriel García Márquez, and many others by the Colombian master. Literary and historical, The Bridge of San Luis Rey by Thornton Wilder (Longmans Green and Co, London 1927) is a fiction, historically based, which starts with the fall of an old Inca bridge on Friday noon 20 July 1714. Brother Juniper wondered why God chose those people to be on it at that moment, and die. He concluded after extensive investigation that there was nothing particularly bad about them, in fact they were rather more virtuous than average. The book was burned in Lima Square, along with Brother Juniper.
Robert Louis Stevenson, Travels with a Donkey in the Cevennes, T Nelson and Sons, Great Britain, 1879. Witty and stylish, RLS is always a pleasure to read.
Specialist topics
Beyond Endurance, Glin Bennet, 1983. This explains what the mind and body go through when they suffer great stress, and helped me understand how the environment affects your abilities, and why people make odd decisions under stress.
The Horses of the Conquest, Robert Bontine Cunninghame Graham, 1930. Graham lived a life as fanciful as his name and here he describes the horses 'which, after God, won it for us.' as one conquistador, Bernal Diaz, wrote. The Highest Altar, Patrick Tierney, 1989 is one of those books about human sacrifice that keeps the seats around you on a train free at all times. But it does look at the cultural role of sacrifice. The Incas weren't as bloodthirsty as the Aztecs, but being selected for special duties at court wasn't always a career, sometimes it was just a daylong job.
The Geographical Journal for November 1999 has a useful article The Agricultural Base of the Pre-Incan Andean Civilization by Arthur Morris.
The Mystery of the Nasca Lines by Tony Morrison, 1987 is one of the best of the myriad books on the lines. Nazca often gets spelled with an 's' now.
Let me know if you have any books on the topic to recommend.