Forgotten Footprints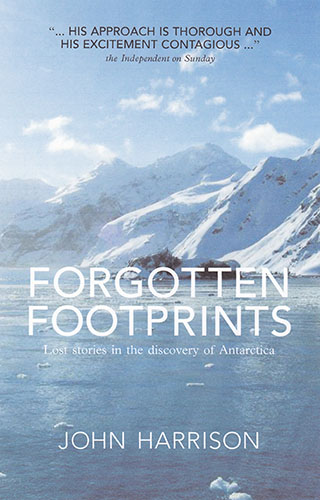 Lost stories in the history of Antarctica
Parthian 2012
Winner of the Creative Non-Fiction Prize 2013 Wales Book of the Year and the 2014 British Guild of Travel Writers' narrative travel book award. The judges said 'it is Harrison's approach to highlighting the tales of individuals who played a significant part in the discovery of the continent, but are relatively unknown, that makes it so intriguing. The description of events and the personalities painted combined with anecdotes of his own travels to the region add to what is a fascinating narrative about the challenges and struggles of exploring one of the last frontiers.'
Can you name the discoverer of Antarctica? This book will tell you. It is the first guide to focus on the history of the Antarctic places that visitors actually see. The polar heroes, Amundsen, Scott and Shackleton are widely celebrated, but they were based in the remote Ross Sea and their routes lay out of sight, far over the horizon.
98% of visitors to Antarctica visit the other side of the continent: the Antarctic Peninsula, the South Shetland Islands and the Weddell Sea. The is the area where, after centuries of argument, ordinary sailors, not explorers, discovered the last continent.
In 15 years John has visited Antarctica 50 times and spends months there each year, guiding and lecturing on adventure cruise ships. In Forgotten Footprints he has brought his unique blend of scholarship, humour and experience on Antarctic land and water, to a selection of highly readable accounts of the merchantmen, navy men, sealers, whalers, and aviators who, with scientists and adventurers drew the first ghostly maps of the white continent.
'His approach is thorough and his excitement contagious'
Independent on Sunday
» Click here to see the maps